It's impossible to ignore the rapid changes our planet is undergoing. With Onslow, Australia recording the highest temperature in the Southern Hemisphere in history (123 degrees F) just this week and temperatures plummeting to record lows in other parts of the world.
There's no question that these extremes are affecting many. Fires sweeping through entire towns, devastating all that they touch. Floods drowning everything in sight. The Earth's snow caps melting into our rising oceans. Anyone who knows me, knows I am not one to dwell on the negatives, but I believe we should all be aware of the world around us, and know that there is hope. Even if the news doesn't always look that way. And, this is where the Circular Economy comes in.
What Exactly Is a Circular Economy?
A Circular Economy is a model of production and consumption. Simply put – it's a system of closed loops, extending the life cycle of products and eliminating waste.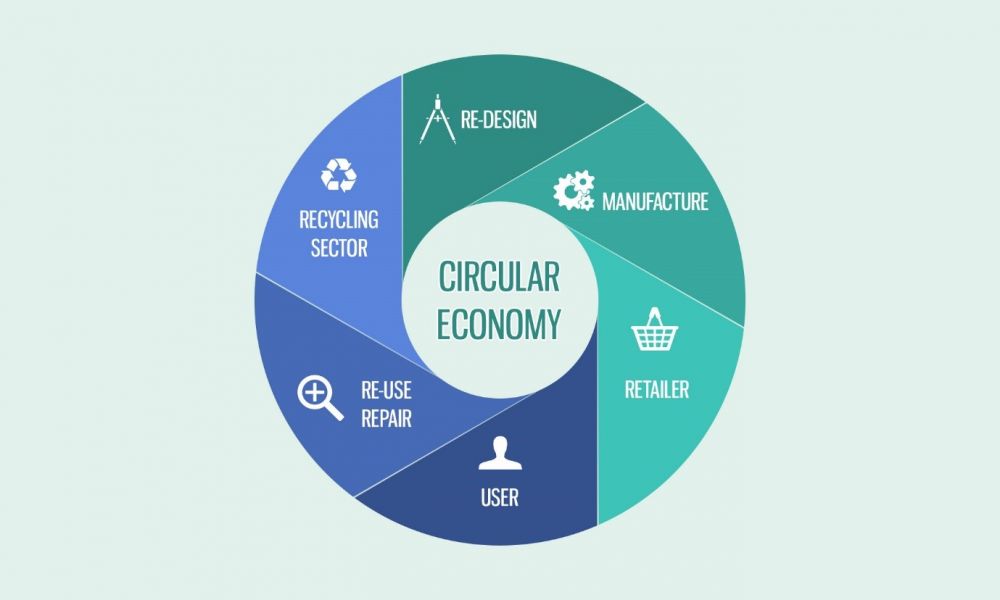 To take action and embrace our vital role in this circular way of life, we need to understand the core problem. We need to take a holistic look at human behavior. 
We currently live in a linear economy. Buy, use, dispose. For instance – what do you do when you're in the market for a new coffee table? Typically, you would buy new, use it until it needs to be replaced, then throw it away. Then, you would head out to the store or get online to purchase a new one. 
It's just the way we do things these days.
But it doesn't have to be. 
How Does a Circular Economy Help Our Planet?
We all go through the seasons of decluttering and purging – often at the start of a new year. But the old saying, "Don't use it? Toss it!" is a thing of the past. 
Currently, only one-third of waste that people put on the curb for trash day actually gets recycled. That means that two-thirds of 258 million tons of waste end up in landfills. 
Landfill space is filling up. Many are closing because there's simply no more room for our trash. 
I hope this motivates you to be involved in a much-needed change. For our loved ones, for future generations, and for our planet.
Here Are Three Ways You Can Join the Circular Economy Movement:
REDUCE: Waste causes pollution, harms wildlife, and contributes to climate change. It also uses up more money, natural resources, and energy than we realize. 
Ways to reduce waste:
Avoid single-use materials
Buy good quality fabric that doesn't need replacing
Cancel junk mail
REUSE: To reduce waste, we have to reuse what we can. There are so many great ways to do this, and it's easier than you think!
Here are a few ideas on reusing:
Buy second-hand or new pieces made of reclaimed materials
Refurbish and mend like the vintage piece above with a new chalk paint finish
Borrow and share
RECYCLE: In nature, there's no concept of waste. Everything is linked. The leaves from the trees feed the soil, the fruit from plants feed deer, and so on. We should do the same!
Some ideas on recycling could be…
Purchase recycled products 
Know the rules on proper recycling
Compost
The Circular Economy prevents pollution, saves energy, reduces greenhouse gas emissions, and sustains the environment for future generations. 
The Sustainable Circular Design in Your Living Room 
What does it mean to design your home with sustainability and a circular economy in mind? 
It means to design with the end in mind. What do I mean by that? Consider buying higher-quality products with the idea of passing them down through generations. Or when you decide to redecorate, ask yourself how you can reuse by reupholstering or repairing. In the living room above, our client was given the striped swivel chairs from a dear family member, the rug, and the coffee table were also pieces they owned. We took these pieces from her old home and used them in her newly built home with new pieces to create a timeless coastal design for her children and grandchildren to enjoy.
When you need to get rid of something, ask around and see if anyone you know could use it. Donate before tossing in the trash. Habitat for Humanity ReStores is one of the places we often recommend to our clients, but there are many others in your community, I'm sure.
At Sea Green Designs, we design with high-quality pieces that are made to last. With sustainability in mind, we work with vendors who produce furniture and decor that can be passed down for generations to come, reducing the need to replace and throw away. I also believe in working with pieces that mean something to our clients and/ or are well made enough to warrant keeping and refreshing rather than discarding. I also love sourcing pieces made of reclaimed wood, knowing that the material used in a brand new piece has a history that gives it a unique character.
Ready to refresh and motivated to do it sustainably? Have a favorite Chair Whimsy or Jolie Home for some inspiration on how you can transform your existing furniture. We'd love to see pictures if you have re-purposed any of your pieces when updating a room! Comment and share below.
Happy decorating! 
To learn more about companies that produce sustainably responsible pieces, check out this blog post: Sustainability Meets Style with Fermob – Just in Time For Summer!